---
AdWords Ad Extensions – Are You Missing Out?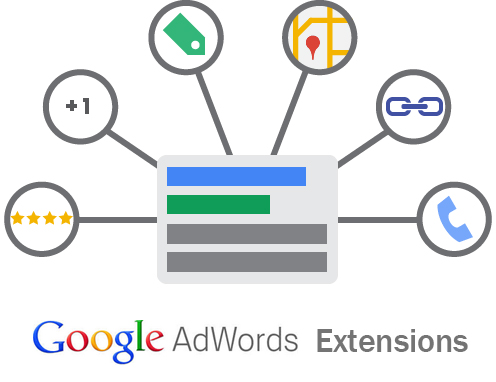 04 Aug 2017
3 Comments
4540
AdWords Ad Extensions
In an effort to make advertisements more accessible and functional for their search engine users, Google AdWords has provided online advertisers ad extension. Ad extensions help expand your ad in the search engine results pages or SERP's and allows you to deliver more helpful information to your prospective customer. It also increases your expected-clickthrough rate which in turn raises your ad rank. With a higher ad rank, you pay less for higher ad positions in the AdWords online auction.
Not all extensions may apply to your specific campaign, but it is a best practice to use as many ad extensions that do apply to your business. This especially helps in situations where the extension is most applicable. For instance using a location extension when someone in your service area searches your keyword + near me.
Sitelink Extension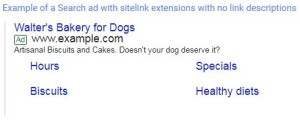 This ad extension allows you to add links to your other web pages on your website at the bottom of your ad. You can create a headline and description for each sitelink basically creating ads within your ad. You can create many extensions, however, it can show up to four extensions at a time when the sitelink extension displays.
Callout Extensions

This extension lets you highlight your business, service, or product offerings with extra promotional text. A couple examples of this are "24/7 Phone Support" and "50% Off Women's Shoes." Having these help you draw attention as well as give you the ability to change offerings without changing the ad.
Structured Snippet Extensions
This extension also allows you to highlight features or services that will display below the ad. These extensions help give insight into the nature and range of what you have to offer. However, unlike callout extensions, you will select a little header from a preset list and apply the applicable information. Here's a list of available headers:
Call Extensions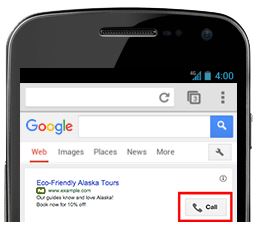 Like the name suggests, call extensions allow you to display your online advertisement with a button that allows mobile devices to click in order to directly call your business. This is really a bonus if your business model includes driving phone calls.
This is an extension that shows with a standard text ad and is not to be confused with call-only ads, which are ads that only give the option to call your business. You will be charged as if it is a click when a user clicks on the call button.
Message Extensions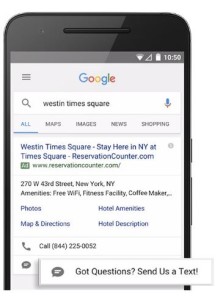 This extension allows you to expand your ad and gives the user the ability to send you text messages in order to interact directly with your business. Message extensions will only show to devices that are capable of sending and receiving messages. It will display a message icon next to your ad that the user can tap.
When a search engine user taps the icon it will display a pre-populated message that you have inserted in order to drive engagement. They can then respond and it will begin a conversation between your company and the prospect. The message extension is only available to search campaigns.
Location Extensions

The location extension will provide additional information about your business location in an effort to drive people to your physical address. It may display a map, address, or even your business phone number.
This extension requires you to have your business to have a Google My Business page and for you to associate it with your AdWords account. The location extension also allows your ad to show up on Google Maps and other Google Search Network Partner sites that may display a map.
Affiliate Location Extensions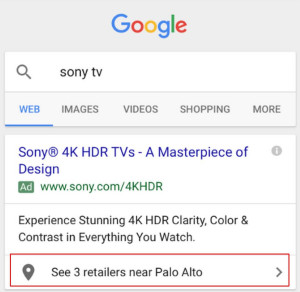 This extension is for businesses that want to link to their retailer affiliates in order to help people reach the nearest store that sells your products. It works much like location extensions, but it sends them to your affiliates to purchase.
Price Extensions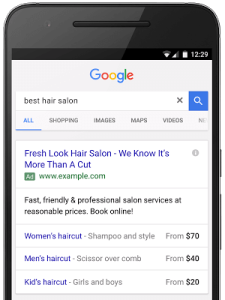 With price extensions, you can showcase different products and services with their prices below your ad. It will show up to eight at a time that will link to a landing page of your specification. You will want to make sure that the price you are promoting with the extension is used with the proper ads and ad groups. For example, if you are advertising shirts in your ad, you won't want to show an extension for socks.
App Extensions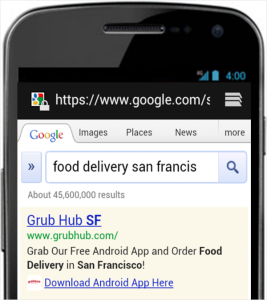 If you are interested in driving app downloads, you can use the app extension to link to your mobile or tablet app from your text ads. When someone clicks on the app extension link it will take them to your app in the Google Play or Apple App Store. However, if your main objective is to get people to download your application, then you might try to use app promotion ads.
Review Extensions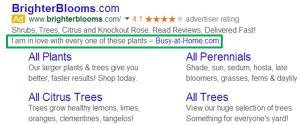 This option is available when people give your business a good review on a respected third party source that is attributed and has a published link. You can show your prospect that real people actually think you are good at what you do and the great things they have to say about it. You can use a direct quote or a paraphrase.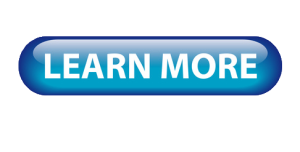 As an online marketing and advertising manager for WebandSEM, Daniel has over 7 years creating successful search engine marketing and advertising campaigns on a wide selection of advertising platforms.
Recommended Posts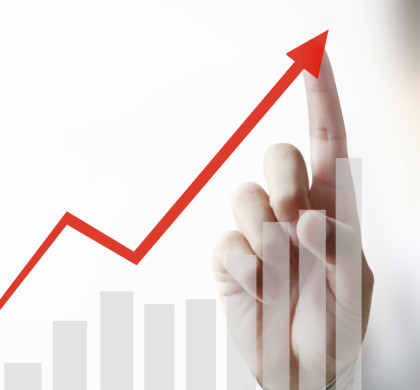 30 Nov 2017 - SEM - SEO